The 3CALoan Condotel Mortgage Loan Lending Advantage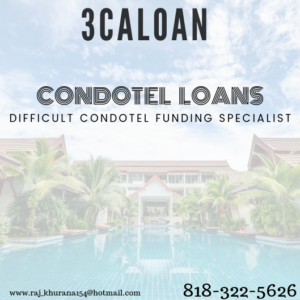 3CALoan specializes and excels in difficult home loan funding. We have non-warrantable condotel financing options available with excellent rates. Our team knows every guideline of condotel loans, so you are guaranteed to get a loan easily. We offer financing options for condotel properties in California. We can help walk you through all the conditions requested when it comes to getting a condotel loan. To receive more information, contact us today at (818) 322-5626 or you can visit our site.
What are Condotels?
A Condotel term used for condo-hotel. Condotels go beyond the typical condominium vacation unit. Condos generally offered to singular financial investors for the owner's consistent utilization. However, when the owner is not utilizing the unit, he or she has the option to partner with a rental agency. The rental income can make up for their expenses. Typically, the condotel unit is desirable in resort areas, where owners can utilize the home only part-time and lease it out to vacationers when they are not using it. The most sought out condotels consist of rooms with high rises and an ocean or city views, cleaning services, reception desks, and other hotel amenities. When considering an investment in a condotel investment property with the help of a condotel loan, you're pursuing the opportunity to make a profit over time through the short-term rental of your unit.
Condotel property is a superb answer for people who want to own a condo in a resort territory however don't want to leave the unit vacant when they aren't using it. They are also an excellent solution for owners who would prefer not to manage the problem of leasing the unit themselves Condotel property is perfect for investment, for a vacation house or if one is renting such property out as a tourist. Some real estate loan brokers or condotel financers help people purchase their condotels. There are non-warrantable condotel financing options available.
History of Condotels
In the 1950s, Miami Beach started the first wave of Condotels, but it wasn't until the 1980s it became more popular. Later in the 1990s, the buyer's interest dropped towards the concept of condotels dramatically. In 2000, the new condo-hotels introduced again with a bigger size kitchen, extra bathrooms, and other amenities. Condotels are more expensive since they are luxury units in prime locations. In addition, a few rooms in 5-star hotels such as Starwood, Marriott, Ritz-Carlton, Westin, Hilton, or others are associated with condotels management. These rooms are also welcoming to hotel guests who may not always know that the room they are staying in may belong to someone. You will also find the condotel financers or condotel loan brokers who will help you to get condotel loans.
Locations for Condotel Units:                
In the US, the large tourist cities and famous resorts are located in the most popular locations like Miami, Las Vegas, New York City, Florida, Orlando, Chicago, Fort Lauderdale, Myrtle Beach, and the list can go on. One can also find condotel properties outside the US like in Canada, Dubai, Philippine Islands, and in many other exotic destinations. You will also find the condotel financers or condotel loan brokers who will help you to get condotel loans.
PROs of Buying Condotels
Condotel units include all the basic requirements like furniture and many more.
Owners of the condotel units, rent their condo if they want to because each unit privately owned.
Owners of condotel investment property can lease it out to vacationers when not they do not use the property. In other words, one can rent it as a regular hotel suite.
When you will rent the condotel property you do not have to take care of the small things like maintaining the property, marketing the property, or finding renters in the offseason.
You can earn revenues created from rental income. It can cover the expenses like a loan which you had taken to purchase. Also, it can cover the maintenance costs of that condotel.
The Equity of the condotel units will rise very efficiently because every condo is situated in a great location.
There are no up-front management fees for condotel properties.
CONs of Buying Condotels
Like all other business, there are also downsides of the condotel property. One of them is that the income one can receive from the property is less in off seasons.
The borrower cannot go to their vacation condotel investment property anytime because it might be rented. He or she must plan and inform the property management in advance. Generally, they will demand up to 60 days prior notice to make sure their room will be available for them. But there are few chances that the borrower can call and ask about the status of their condotel investment property. And if there are no other reservations and their condotel unit would be free. Then the management will remove their condotel unit from the renting list till the time they stay in their condotel.
Sometimes there are hotel economic losses due to low occupancy rate or property destruction. One should acknowledge that little fact and be prepared for such instances.
When one stays in their condotel unit, one has to pay the HOAs known as homeowner's association fees. These fees are for basic maintenance aspects depending on location. If your condotel property area requires snow removal then the HOAs will be a major expense. If the borrower's condotel investment property is in the beachy area, then the damages caused by the salty air will be more often than the exterior of the building should be painted regularly after a short period.
Final Thoughts
Overall, it is best to compare all the condotel properties one is interested in. And also take the PROs and CONs into consideration. By taking these into consideration, one can get an idea of whether or not it would make sense for them to make this investment. The borrower will also find the condotel financers or condotel loan brokers who will help them get condotel loans.